Image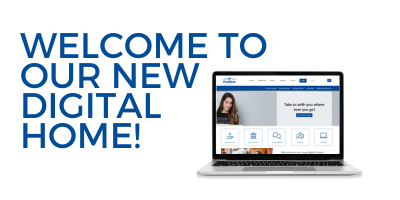 We're taking the banking experience to the next level with our redesigned website and new .bank domain!
Our commitment to providing an exceptional banking experience has led us to create a more user-friendly, secure, and informative platform that brings banking resources and community connections to your fingertips. We invite you to explore the possibilities and discover the advantages of our new website.
Here's some important information to know:
On August 1st, 2023, we will transition from www.starbank.net to www.star.bank. This will provide you with a more secure banking experience than ever before!
Effective August 1st, all visits to www.starbank.net will be automatically redirected to www.star.bank
Star Bank employee email addresses will be changing on August 1st, too! As an example…If you have been emailing john.smith@starbank.net, you should start emailing john.smith@star.bank instead.
Don't worry! If you email a Star Bank employee using their .net email address, the email will still be received by that person.
Please take a moment to update your website bookmarks to www.star.bank starting on August 1st and adjust your email addresses in your address book.
Going forward, you should look for the ".BANK" (rather than .net) at the end of our Star Bank employee email addresses and at the end of our website URL. If it's not .BANK it's not us.
Our revamped website is more than just a fresh look - it's a door to an enhanced community banking experience!


Here's what you can expect:
Streamlined Navigation: Finding the information and services you need is simple with our intuitive and user-friendly design.
Enhanced Accessibility: Access your accounts, and manage transactions, from any device, anytime. Great news! Soon you will be able to apply for a loan or deposit account 24/7/365 on our new website. This new feature is currently in development!
Wealth of Resources: Explore our expanded range of financial resources including articles and community-based information.
Personalized Solutions: Learn more about all of our tailored banking solutions and locate the list of employees who work at your local branch!
We've made the move to .bank to ensure your banking experience is as safe as it can be!
Trust and Authenticity: The .bank domain is available exclusively to banks. If you see a .bank domain, you can be assured that you're visiting a legitimate bank's website.
Enhanced Security: Rest easy knowing that our transition to the .bank domain ensures the highest level of security and protection for consumers and businesses.
Thank you for choosing Star Bank, and we look forward to serving you on our new .bank website!