Image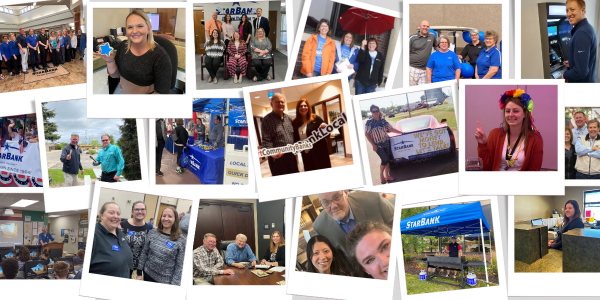 Careers
Join our team of professionals who are passionate about serving the community, building relationships, and making a positive impact.
Discover rewarding career paths, growth prospects, and a supportive work culture that values collaboration, integrity, and personal development.
Welcome to the Star Bank Careers Page – a gateway to exciting opportunities in a close-knit community banking environment.
We've made applying simple and easy!
Click the button below to visit our Career Center and learn more about our open positions. We can't wait to get to know you!
There's plenty to love about working for Star Bank. When you join our team you'll be treated like family! Star Bank employees enjoy these added workplace benefits:
Healthcare Benefits

The wellness benefits are available to full-time employees and their eligible dependents
Full-Time employees can choose from 3 health plan options
Access to HealthiestYou - connect to doctors 24/7, mental health counseling, prescription price comparison
Vision Benefits
Dental Benefits
Life Insurance
Accidental Death and Dismemberment Insurance
Long-term Disability

Work-Life Balance

Paid Bank Holidays - 11 holidays per year
Paid Time Off - Employees accrue paid time off based on their years of service
Paid Birthday - Paid day off for your birthday each year
Paid Volunteer Time - 8 hours of paid time to volunteer at an organization of the employee's choice

Retirement Plan

Star Bank offers a great opportunity for employees to save for retirement with a 401(k) match program.

Employee Development

Employees participate in a wide rage of internal and industry career and personal development courses.

More Benefits

Employees enjoy a range of free Star Bank personal banking products and services including a free checking account, digital services, and more.
Employees are eligible for a discretionary annual bonus based on the bank's performance and the employee's job performance.
Through our Referral Bonus Program, employees are eligible to receive a bonus when they refer a new hire that meets the program requirements.
Stipend each year to purchase Star Bank apparel such as shirts, sweatshirts, coats, hats, and more!