Image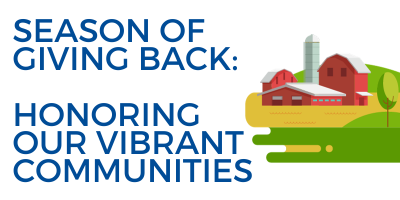 In this season of gratitude, Star Bank extends our heartfelt thanks to the people and organizations that make our communities vibrant.
Since our founding, we have been deeply rooted in Minnesota's rural landscape and are committed to giving back to the communities we serve. We are proud to support a variety of local organizations through sponsorships, donations, and volunteerism.
In recent weeks, our Star Bank team members had the opportunity to deliver lunch to farmers as they worked long days to bring in their crops. "It's always great to share sunshine and smiles with these incredible people," said Jeff Koenen, Vice President/Branch Manager in the Wheaton office. "It was a privilege to thank them for their contributions to our communities and let them know how much we appreciate them."
"Everything the bank does is designed to support local communities," explained Robyn Lampert, the Ag/Commercial Lender in our Graceville office. "We are happy to give back to the people who support our local schools, churches, small businesses, and agribusinesses. Without our local organizations, we wouldn't have our Main Street and we couldn't enjoy life as we know it."
Star Bank enjoys giving back to the communities in a variety of ways all year long. We are active members of the local chamber of commerce, our employees serve on boards, participate in Rotary clubs, and the bank sponsors and donates to many community events throughout the year. We are also very proud to offer financial solutions designed to help our customers grow and succeed!
One of our favorite ways to give back is through our annual half-day program called "Cultivating Profits". Our 4th annual "Cultivating Profits" workshop is scheduled for December 5th and will provide education, fellowship, and support for area farmers. Experts will speak on issues that are top-of-mind in the agribusiness community.
"Strong communities are essential to a strong economy," said Lampert. "When our communities thrive, everyone benefits."
"We are proud to stand alongside our neighbors, local business owners, and farmers offering support and guidance," said Koenen about the upcoming workshop.