Image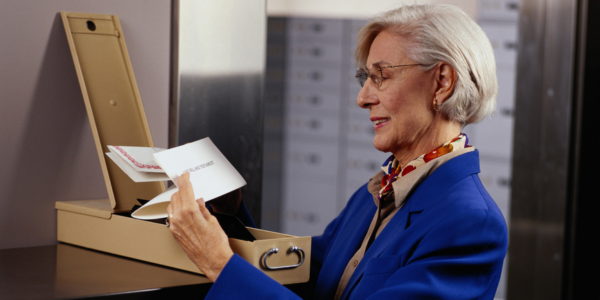 Safe Deposit Boxes
Secure and protect your valuable items!
Protect your valuables from theft, fire, flood, or any other natural disaster by storing them in one of our safe deposit boxes.
What to keep in a Safe Deposit Box?
Keep items that are important, hard to replace, and are not needed often. This can include documents and valuables, such as original birth certificates, marriage licenses, military records, degrees and diplomas, house or car documents, social security cards and a home inventory for use when filing a home insurance claim.
What NOT to keep in a Safe Deposit Box?
Anything you might need to retrieve quickly or when the bank is closed should not be kept in a Safe Deposit Box. These items might include power of attorney, living will, or final will documents.
Contact these Star Bank locations for pricing and to lease a Safe Deposit Box:
Annandale, Barrett, Bertha, Eagle Bend, Graceville, Maple Lake, Verndale, and Wheaton
Frequently Asked Questions:
What do I need to lease a Safe Deposit Box?

A Star Bank Checking or Savings Account. Star Relationship Accounts receive a $10 discount on annual Safe Deposit Box rental.
The US Patriot Act requires the bank to obtain, verify, and record information that identifies each customer who opens a Safe Deposit Box. When you open the box, you'll need to provide your legal name, address, date of birth, and SSN or TIN. You'll also need to provide a government-issued photo ID.

What is the lease term agreement?

Safe Deposit Boxes are leased for one-year and the annual rent must be paid in advance. The lease will renew automatically each year unless the agreement is terminated by the customer or the bank.

How can I access my Safe Deposit Box?

You may access your Safe Deposit Box anytime during normal bank hours. No appointment necessary.

How many keys do I get?

Two keys will be provided at account opening.
The keys must be surrendered upon termination of the rental agreement.
The keys may not be duplicated or given to anyone who is not authorized to access the box.
The bank does not keep duplicate copies of the keys.
If the keys are lost or stolen, contact the bank immediately. If both keys are lost, the box must be drilled by a locksmith and all expenses incurred shall be paid by the renter.

Are there any items that I cannot put in my box?

The box may not be used for any unlawful purposes or for storage of anything the bank deems dangerous or a security risk. No liquids, drugs, perishable items, cremated remains, firearms, ammunition, weapons, explosives, hazardous materials, or anything of a destructive nature may be stored in the Safe Deposit Box.
While these items are not prohibited, we strongly discourage the storage of any important documents you might need immediately such as a will or power of attorney documents.