Image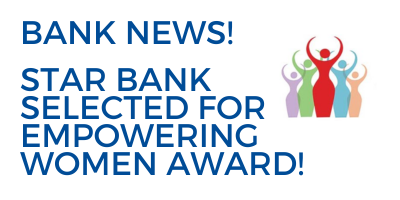 Star Bank is a 2023 Finance & Commerce Magazine "Empowering Women" Award Honoree
We are proud to announce that Star Bank has been selected as one of only nine honorees for the 2023 Finance & Commerce Magazine "Empowering Women" Awards! This award celebrates companies demonstrating a resolute commitment to supporting, uplifting, and advancing women in Minnesota.
As a family-owned business, Star Bank has consistent and ongoing efforts to promote and celebrate leadership diversity both within our organization and within the communities we serve. A remarkable 75% of our bank team are female employees. Notably, most of our back-office departments are led by women today! We also have women at the helm of several branch locations, and our bank Board of Directors also includes tenured women leaders.
The award honorees were selected through a panel of judges comprised of accomplished business professionals. The evaluation criteria encompassed advocacy for women both within and outside the organization, leadership roles held by women, and efforts to foster the growth of the next generation of women professionals.
Our selection as a Finance & Commerce Magazine "Empowering Women" Award winner reflects our steadfast commitment to promoting leadership diversity. We are deeply honored to receive this award and look forward to continuing to champion women's empowerment both in the office and in the communities we serve!